At first glance, this gorgeous retro-styled audio player built by Max Kern could absolutely pass for the genuine article. But then you take a closer look and realize that the "tape" it's playing is actually an animation; running on a 320 x 240 IPS display; and the Play and Rewind buttons on the front aren't the chunky electromechanical affairs of yesteryear; but actually cleverly repurposed MX keyboard switches.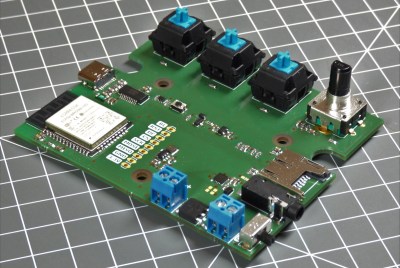 By now you're probably realizing that this player is quite a bit smaller than you first imagined; which in turn, means that it even its case is a modern fabrication. While it might perfectly encapsulate the look and feel of a piece of 1980s consumer electronics; it was squirted out on a thoroughly modern desktop 3D printer.
Even so, Max made sure to include draft angles in the CAD design and and a distinctive separation line so the case looked like it was injection molded. Following similar logic; he decided against using a modern rechargeable battery pack to power the electronics, opting instead for a more era-appropriate set of AA batteries.
Read more: Faux-Retro "Tape" Player Runs on ESP32 and 80s Vibes