We are all looking for a Uninterruptible Power Supply for the Raspberry Pi. Or maybe you are just looking to take your Pi on the road. This power backup unit packs a big punch in a small, neatly designed package.
Buy yours now!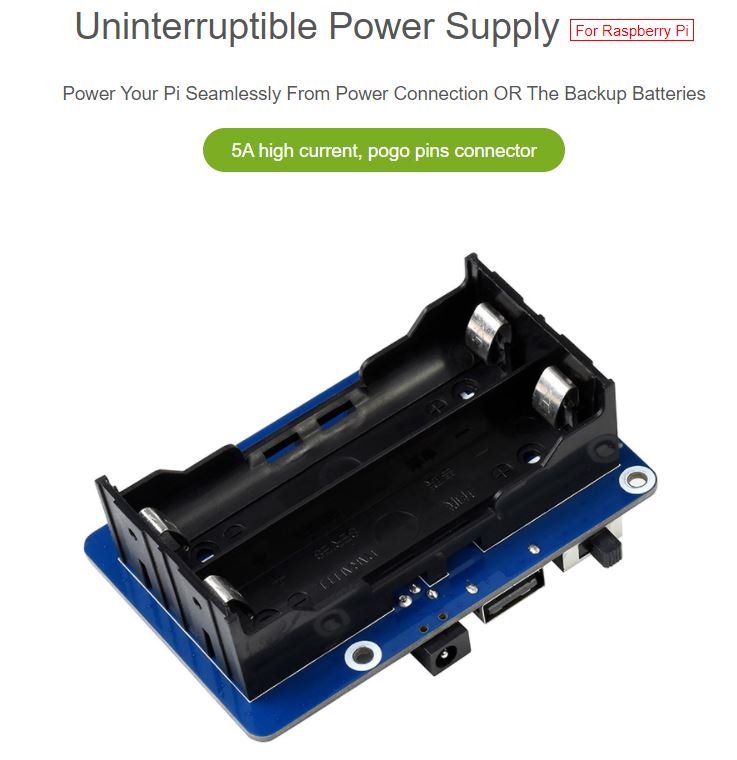 Description
Designed for Raspberry Pi series, compatible with Raspberry Pi 3 / 3B+ / 4B, etc.
I2C bus communication, monitoring the batteries voltage, current, power, and remaining capacity in real time
Multi battery protection circuits: over charge/discharge protection, over current protection, short circuit protection, and reverse protection, along with the equalizing charge feature, more safe and stable
Onboard 5V regulator, up to 5A continuous output current, more sufficient power source for Raspberry Pi
5V USB output, convenient for powering other boards
Batteries warning indicators, easy to check if the battery is connected correctly
Comes with development resources and manual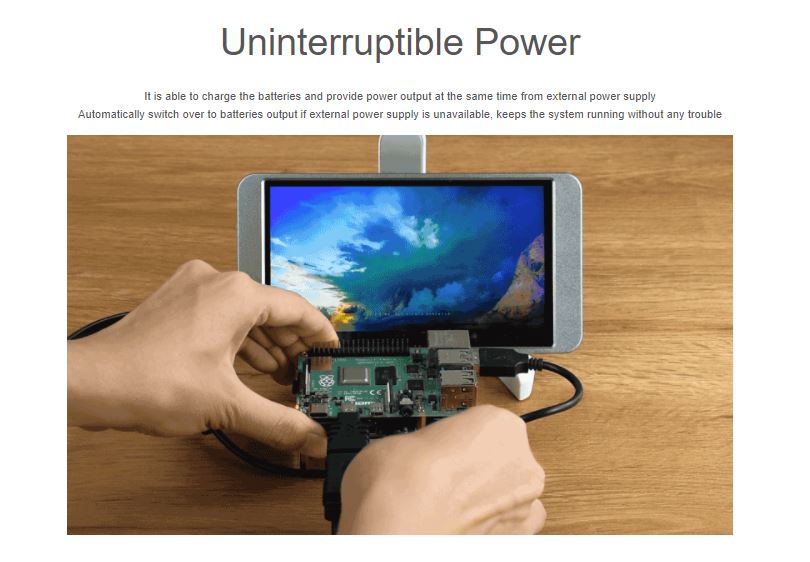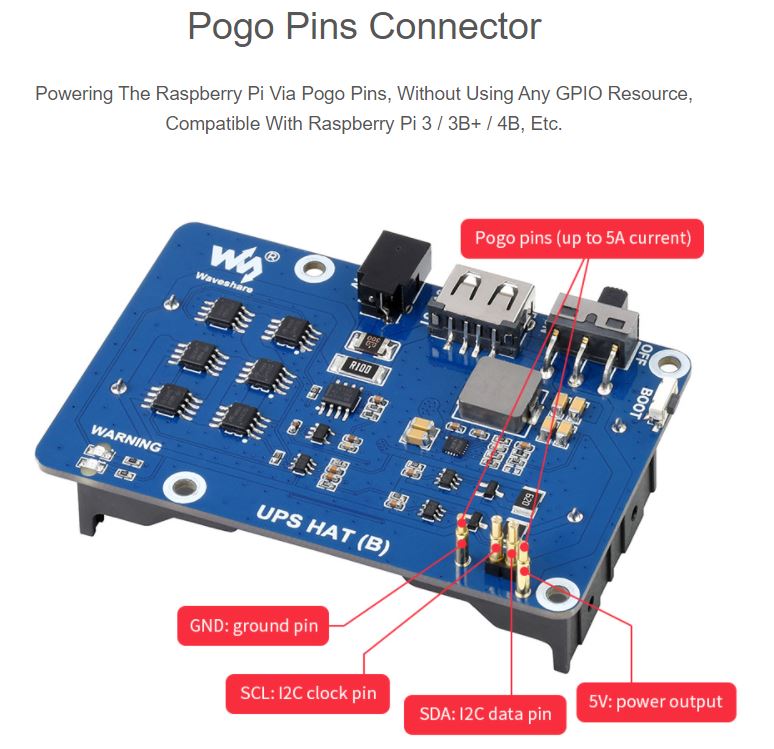 Specifications
| | | | |
| --- | --- | --- | --- |
| OUTPUT VOLTAGE | 5V | CHARGER | 8.4V 2A |
| CONTROL BUS | I2C | DIMENSIONS | 56 × 85mm |
| BATTERY SUPPORT | 2x 18650 Li batteries (NOT included) | MOUNTING HOLE SIZE | 3.0mm |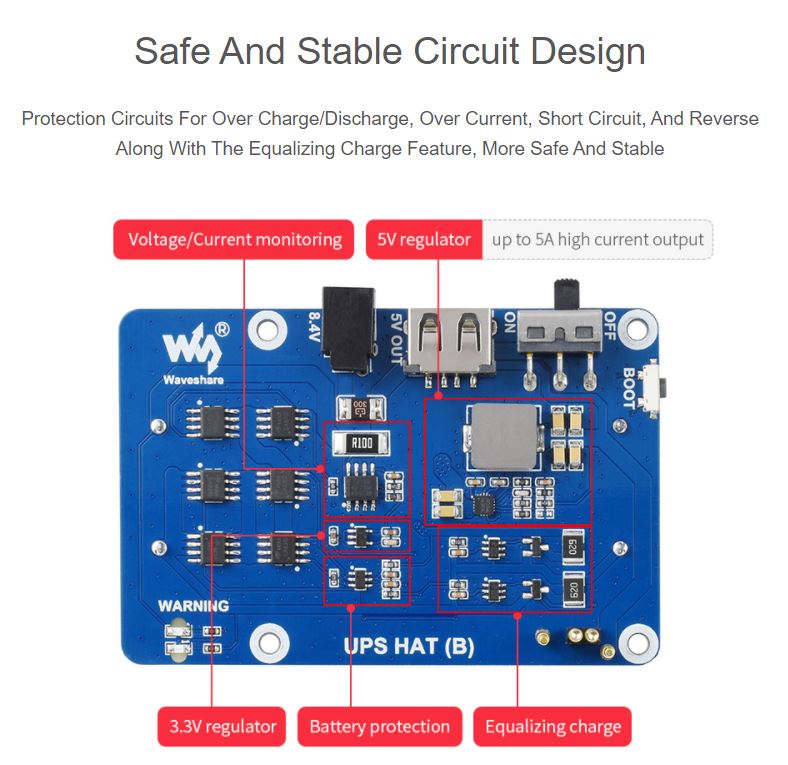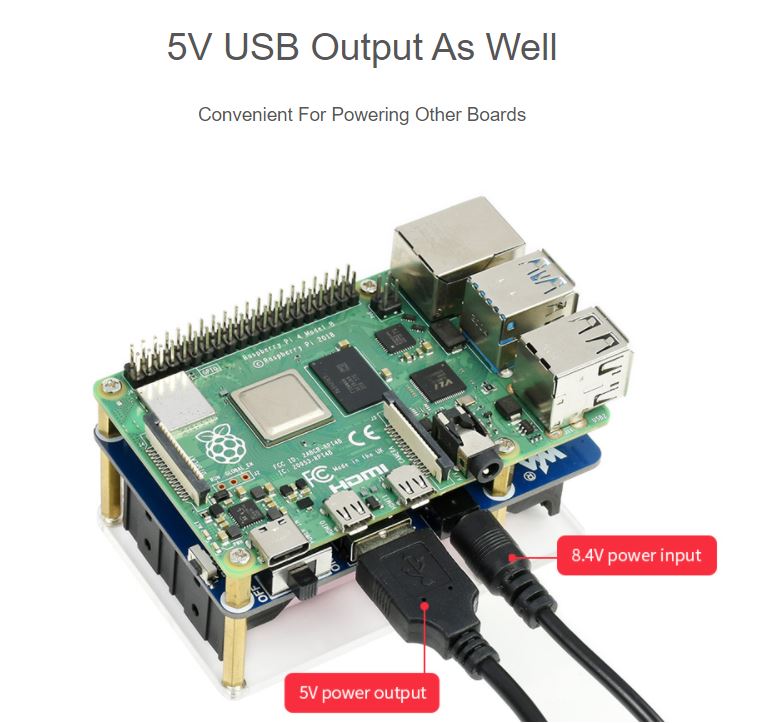 Raspberry Pi, Cables are for reference ONLY, the Raspberry Pi, cables and Fan HAT are NOT included.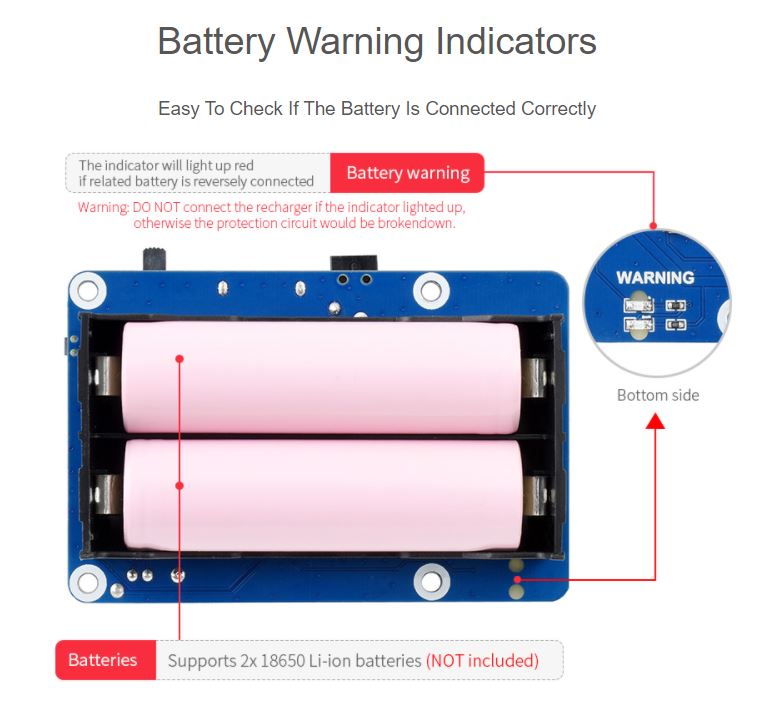 The 18650 batteries are NOT included
Please note that the battery length SHOULD be less than 67mm, some batteries with protection plate in the market are NOT supported, learn more.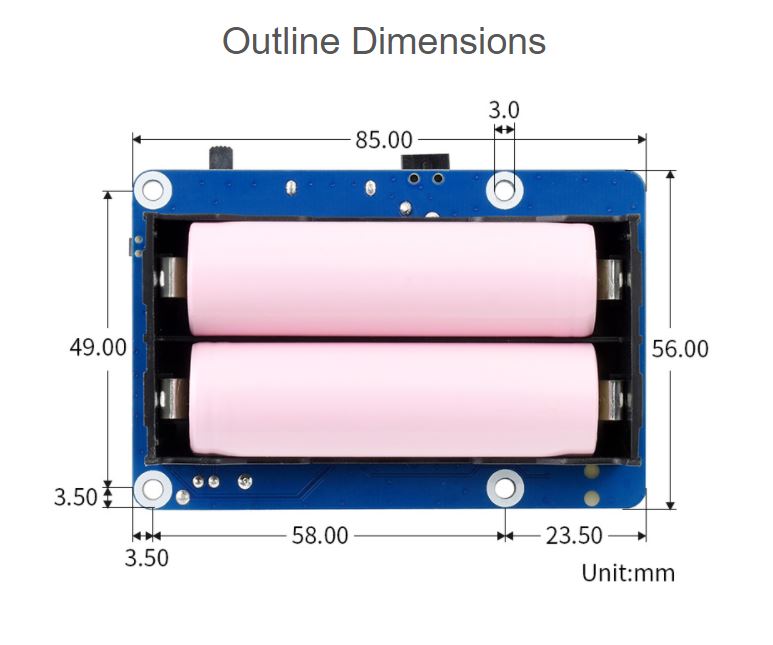 Resources and Services :
WIKI: UPS_HAT_(B)
FAQ
Question: Why the HAT doesn't work after re-connect the battery?
Answer: You need to connect and press the boot button to activate the protective circuit.
Question: What is the battery life?
Answer: Without other devices and in standby mode, the battery can feed the Pi for about 3 hours after fully charging.
Question: Why is the capacity value changing all the time and it is not accurate?
Answer: The capacity is measured by the battery voltage, it is higher than the actual value if you connect the power adapter for charging. The expected voltage when fully charging is 4.2V, however, the actual voltage will be smaller than it.
Question: Why is the current value is negative?
Answer: Negative value means that the battery is discharging and powering the Pi.
Support
If you require technical support, please go to the Support page and post a tickets. Or you can contact us directly at [email protected]