The Atten ST-8800D hot air soldering station has a power of 800W. The station will reach the operating temperature quickly due to the high power. With the use of two buttons, the temperature can be adjusted easily from 100℃ to 500℃. The three shortcuts make it possible to store temperatures. The knob on the soldering station makes sure the air flow can be regulated. Furthermore, when the hot air gun is placed onto the stand, the auto-sleep function will be activated.
For use in bulk soldering or SMD soldering, or looking to quickly remove soldering on you board.
1.Large LCD screen;Temp/Airadjust easily.
2.Touch sensor inside, auto sleep function will take effect when hot air gun placed on the stand.
3.Use brushless vortex fan making cyclone air output more gentle and evenly. (Offer 4 nozzles)
4.It has automatic large air volume cooling function, effectively protect the life of heating core and handle.
5.It has independent cold air function, can deal with special use purpose.
6.Three sets of quick temperature keys, can be set and save independently, use easily
7.It has password protection and key lock function, control easily.
8.With timing function and temperature compensation function, make use flexibly.
Specifications: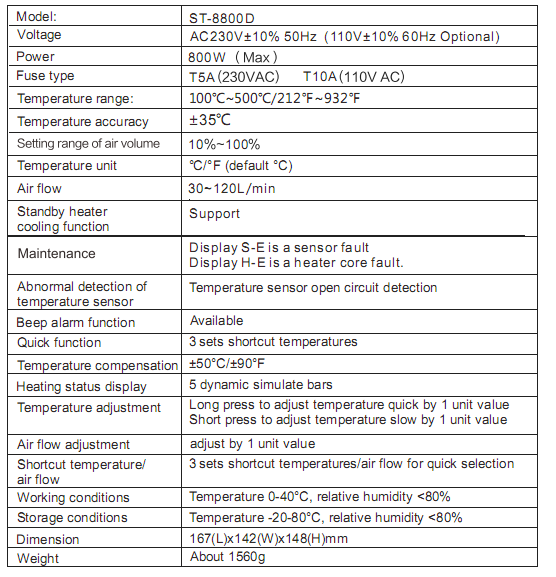 Product video
See also Solder Paste For Soldering Tool – Repair Rework BST-706
Rosin flux is used to facilitate soldering. It cleans and prevents metal oxidation which allows solder to create strong, long lasting mechanical and electrical bonds. It also acts as a wetting agent, increasing the flow of solder and the efficiency of the soldering process. Perfect for mobile phones, PC cards and other sophisticated electronic chip-level flux welding.